Equipment Checkout Office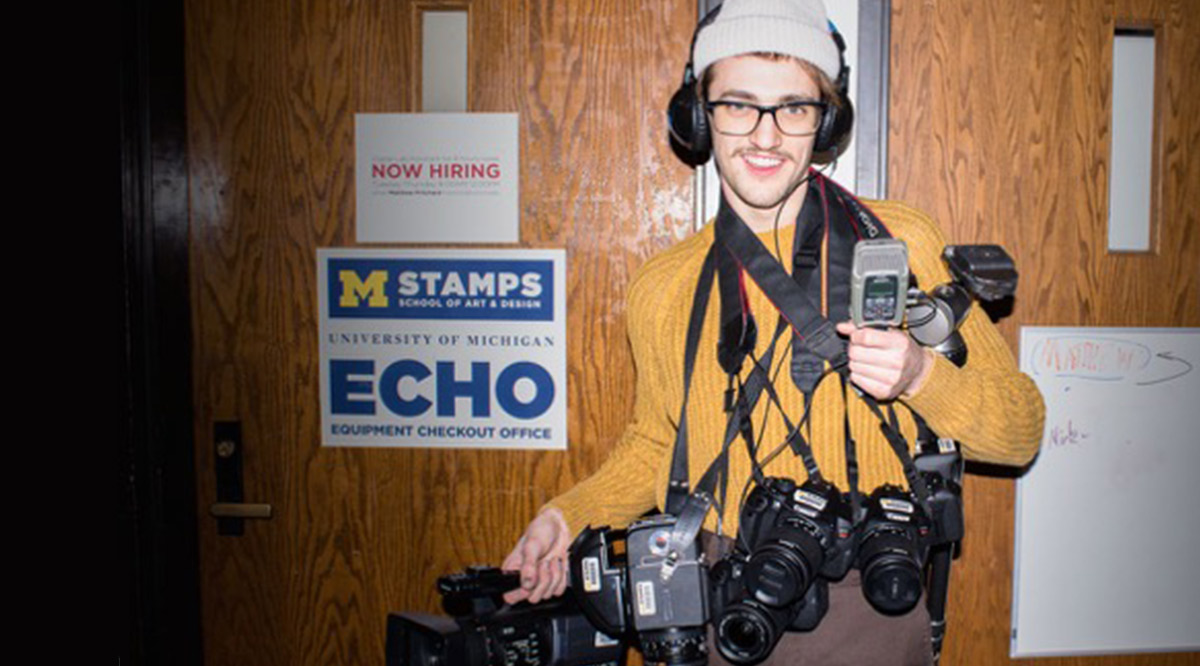 News
Now Hiring!
Contact Matthew Pritchard if you are interested in becoming an ECHO Digital Assistant.
Fall 2017 ECHO Hours
Monday 8:30AM - 9:00PM
Tuesday 8:30AM - 9:00PM
Wednesday 8:30AM - 9:00PM
Thursday 8:30AM - 9:00PM
Friday 8:30AM - 5:00PM
Availability during the first week of classes may vary as we hire and train new staff.
The Equipment Checkout Office (ECHO) provides Stamps students, faculty, and staff with a wide variety of resources at no cost to the user. ECHO focuses primarily on offering audio/visual equipment, but also provides a range of drawing and animation tools and access to the Photo Studio.
Hours & Info
ECHO - Equipment Checkout Office
Room 2144 Art & Architecture Building
Echo Desk: (734) 763-3527
Monday - Thursday: 8:30 am - 9:00 pm
Friday: 8:30 am - 5:00 pm
Saturday - Sunday: Closed
Coordinator: Matthew Pritchard, (734)763-6133
Students, faculty and staff that have a signed Stamps ECHO Borrower Agreement Form on file can use the online reservation portal to reserve equipment. Follow these steps to make a reservation:
Go to webcheckout.stamps.umich.edu/patron, and login with your U-M credentials.
In the Reservation Information section, choose a date and time to pick up your reservation.
Choose a return date and time WITHIN 48 HOURS of your pick-up time.
Click the Add Resources tab
Use the links or search in the Resource Type section to find the equipment you need, then click the Reserve one of this type button to add it to your cart. The calendar on the right shows equipment availability.
Correct any issues highlighted in the red Reservation Problems message box. These will usually be an issue with your pick-up/return times or checkout duration.
Click the Confirm button to complete your online reservation.
Users must have a signed Stamps ECHO Borrower Agreement Form on file to use the Reservation Portal.
Download a complete list of equipment with information on resource tiers and availability. Stop by ECHO to ask about additional equipment or make requests.